Sewage Cleanup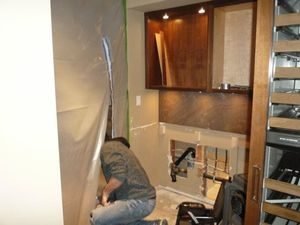 Sewage can invade your property through various avenues. Sometimes a simple toilet clog can cause a backup, and other times its a more complicated issue involving the city's sewage system.
No matter how sewage gets inside your home or business, you can rely on 911 Restoration of Saratoga Springs to spring into action the moment you call our offices.
We understand the magnitude of a sewage spill and never want to make you wait long to receive cleanup services. In order to provide you with the most immediate assistance, we stay available 24/7/365.
Once we determine the details of your situation, we will send technicians to your property, guaranteeing that they arrive within 45 minutes of receiving your call. When we get on the scene we will immediately begin services by inspecting the area for free and providing you with an estimate.
When sewage overflows into your commercial or residential property, call our sewage backup cleanup Saratoga Springs experts and we will get to work decontaminating the area as soon as we arrive.
Staying Safe During A Sewage Overflow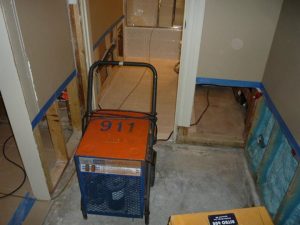 Sewage is also known as black water and is considered a category three water. Black water differs from gray water due to it being filled with toxins, chemicals, bacteria, and biohazards.
When you are exposed to black water, whether it be topically or by accidental ingestion, it can cause you to experience health issues. This is why it is so important to stay away from the sewage once an overflow occurs.
If you can create a barrier around the affected area it would be wise to do so in order to keep children and pets out of the sewage water. However, never try to cleanup the mess on your own, especially without wearing the proper gear.
911 Restoration Saratoga Springs will arrive shortly after you contact us, ready to get to work decontaminating the area. We will wear protective clothing and use extraction machines that will allow us to remediate the sewage quickly and safely.
Your safety is the most important thing to our technicians, so just call us when you need sewage removed from your home or business and we will take care of everything for you.
Understanding If Your Insurance Covers Sewage Damage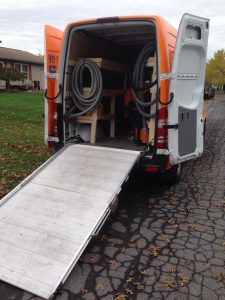 A sewage disaster can do considerable damage to your property, leaving you with water damage, foul odors, and biohazards to take care of.
If you have a homeowner's or commercial property insurance policy, then chances are high that your provider will cover the cost of the repairs. However, coverage varies from policy to policy and is dependent on how the backup occurred.
You are responsible for maintaining the sewer pipeline that runs from the city's main sewer into your property. So, if it turns out that your sewage backup occurred due to negligence on your part, then your insurance provider could deny you coverage.
In order to be safe, you can add a sewage backup policy to your current policy to be sure that if an incident does occur then you will be covered. This addition is relatively cheap, ranging between $40 and $150 a year- only a fraction of what paying out-of-pocket for a cleanup would be.
If you have any questions concerning your sewage line or insurance policy, call our sewage backup cleanup Saratoga Springs professionals today and we will help you in anyway we can.
Serving the communities of Saratoga Springs, Alplaus, Argyle, Ballston lake, Ballston spa, Broadalbin, Burnt hills, Cambridge and surrounding area.