Water Damage and Flooded Basements in Saratoga Springs
Weather Alert: If you are experiencing weather-related damage from the storm, call us today for emergency assistance!
911 Restoration of Saratoga Springs
No property owner is immune to the risks associated with water damage, fire damage, sewage backups, and mold growth. You need to be able to rely on a restoration company that is standing by around the clock to assist you after any property damage emergency.
911 Restoration of Saratoga Springs is available 24/7/365 to handle water damage and flooded basement emergencies. You should not have to worry about taking on a financial risk when you hire us, so we provide free visual property inspections for property owners only.
At 911 Restoration of Saratoga Springs, we offer a Fresh Start with our comprehensive selection of property damage restoration services, including but not limited to:
Whether you're a Saratoga Springs homeowner or business owner, 911 Restoration of Saratoga Springs is your Fresh Start! We'll communicate with you throughout the entire process, help answer questions related to insurance, and restore your property to its pre-damaged condition. One of our IICRC-certified teams is dispatched within 45 minutes of your call! Contact us today, and one of our friendly representatives will assist you in finding the nearest Saratoga Springs location.
Service area map
Our IICRC certified technicians who are trained in remediating water damage, fire damage restoration, mold removal, and other issues in commercial and residential properties. Technicians can make sure that you are taken care of when disaster strikes your property. Call a water damage restoration Saratoga Springs specialist today. 
Sherry M.
"I would give them 6 stars if I could. I had to deal with a flood in my business, an absolute nightmare for every business owner. [911 Restoration] came right away, and they are so professional and efficient. Even after everything was done they followed up and made sure everything was back to normal. A+ customer service. Thank you!"
Water Damage Restoration
You need water damage restoration services immediately if water invades your home or business. It is important to extract the water and dry the area as soon as possible in order to prevent subsequent issues such as wood rot, rusting, and mold growth.
911 Restoration of Saratoga Springs understands that time is of the essence when it comes to water disasters, so we guarantee to arrive within 45 minutes of receiving your call, no matter what time you reach out to us.
You can count on us to provide comprehensive restoration services that include removing water, completely drying out the area, and making any repairs necessary, such as replacing damaged drywall. Let us provide comprehensive water damage restoration and mold removal services to you.
Call our water damage restoration Saratoga Springs technicians if you need immediate help. 911 Restoration of Saratoga Springs will come prepared to start repair work immediately upon arrival.
Frozen Pipe and Flooded Basement
Winter in Saratoga Springs brings with it the risk of frozen pipes and flooded basements. Pipes can freeze and crack as temperatures drop, leading to serious issues with water damage. Pipes can freeze behind walls and under floors.
Property owners in Clifton Park can end up with serious damage to their home and business when pipes freeze and cause basement flooding. Some property owners do not visit their basements every day. This can allow water to lay, unnoticed, causing extensive damage to floors, walls, and your possessions.
911 Restoration of Saratoga can help you handle water damage to your flooded basement. Our team understands how to deal with frozen pipes quickly and effectively.
Mold Removal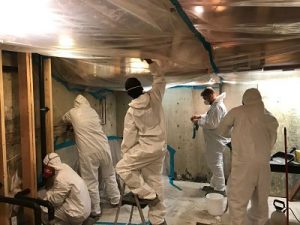 Mold is a common byproduct of unmitigated water damage, which is why it is so important to remove invasive moisture as soon as it appears. 911 Restoration of Saratoga can take care of water remediation and mold removal if you spot any signs of mold growth on your property.
Mold spores can infest an area within 24-48 hours of exposure to water. Mold lives off organic materials commonly found indoors, such as wood, cardboard, paper, and cotton. Mold can damage your home or business if it is allowed to grow unchecked.
Taking care of mold removal quickly is imperative to sustaining the structure of your property, as well as keeping your health intact. You may experience allergy symptoms and even respiratory issues after inhaling mold spores.
We can test the mold spores removed from your property to gather information about the mold you are facing. The results of your mold test will let us know if the infestation is dangerous or not, which could impact the mold removal process.
Call our mold removal Saratoga Springs experts if you notice any signs of mold or mildew in your property to get a free visual inspection for property owners only.
Sewage Backup Cleanup
Experiencing a sewage backup in your property is one of the most unsanitary issues a property owner can experience. Not only does sewage cause a big mess, but it can be harmful to your health. 911 Restoration of Saratoga Springs can provide you with the sewage backup cleanup services you need to protect your health and property.
Sewage is considered category three water, or black water. Black water is filled with bacteria, toxins, and chemicals. You should avoid any contact with sewage to due to these biohazards.
Leave Black Water Cleanup to the Experts
Do not try to clean up the sewage on your own. Instead, create a barrier around the spill to keep people and pets away from the black water and wait for professionals to arrive. 911 Restoration of Saratoga Springs can use state-of-the-art equipment to safely and thoroughly decontaminate your property.
Your safety is the most important thing to our sewage backup cleanup experts in Saratoga Springs. Call us when you experience a black water disaster and we can get your property cleaned up and odor-free in no time. The team at 911 Restoration of Saratoga Springs can even handle mold removal after a sewage backup.
Fire Damage Restoration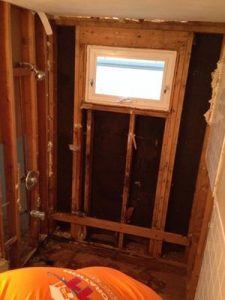 A fire can spread very quickly and can end up being extremely destructive to your property in a blink of an eye. It is important that you contact a fire damage restoration company immediately to repair the damage done by fire, smoke, and soot.
We want to get your commercial or residential property fixed up as quickly as possible after a fire. Our fire damage restoration technicians have the equipment to restore your property. The team knows how to properly cleanup ash and smoke stains. 911 Restoration of Saratoga Springs can also remove foul odor left after a fire with professional fire damage restoration services.
Fire Damage and Water Damage Restoration
Note that there is usually a significant amount of water left in your property once the fire department leaves. 911 Restoration of Saratoga Springs can extract this water quickly to reduce the chances of mold and rot setting in while taking care of fire damage restoration.
You can depend on us to take care of all aspects of fire damage restoration. Contact the fire damage restoration unit in Saratoga Springs as soon as the flames are put out to get your property up and running again.
Disaster Restoration
Tornadoes and blizzards are examples of natural disasters that frequently occur in Saratoga Springs. Natural disasters can impact commercial and residential buildings, leaving property owners in need of the professional disaster restoration services provided by 911 Restoration of Saratoga Springs.
Water, wind and snow can all damage the structure of your property. 911 Restoration can take care of water damage remediation, fire damage restoration, and mold removal after major disasters. We can react on a moment's notice and use advanced equipment that enables us to work quickly and efficiently.
Call the 911 Restoration of Saratoga Springs disaster restoration technicians if your property is affected by any type of disaster – natural or man-made. Let us work hard to ensure you get the fresh start that you deserve.
Serving the communities of Saratoga Springs, Alplaus, Argyle, Ballston lake, Ballston spa, Broadalbin, Burnt hills, Cambridge and surrounding area.