Commercial Water Damage Restoration in Saratoga Springs
Owning a commercial properties requires around the clock maintenance, especially when you live in an area like Saratoga Springs where severe weather is frequent and often leads to water damage and mold.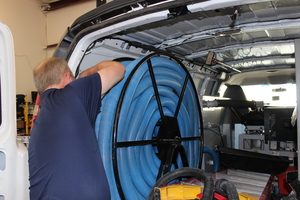 When you run a business it really isn't an option to close when your property is affected by flood or fire, and 911 Restoration Saratoga Springs understands that. So, in order to limit any down time, we work hard and fast to get you back up and running again.
We stay available 24/7/365 to make it easy for you to contact us the moment a situation that arises that requires our professional assistance. When water is involved in your emergency, we guarantee to arrive at your commercial property within 45 minutes.
Once we get on the scene, we will provide a free visual property inspection that includes an estimate. If the situation is especially dire we will implement same day services, ensuring that your property will be free of water and completely dry as soon as possible.
We want to be sure that you get the best remediation services in the industry, so we work with IICRC certified technicians who are trained to repair commercial properties. So, when you need fast and efficient help, call our commercial property damage Saratoga Springs specialists right away.
Repair Water Damage Now To Prevent Structural Issues Later
There are many ways water can invade your building. Pipe bursts can create floods, storms can cause leaky roofs, and plumbing issues may lead to a sewage overflow.
It doesn't matter how your property is affected by water, the bottom line is it needs to be extracted as soon as it enters in order to stop subsequent issues on your property. When moisture is left to stagnate on the surfaces and walls of your building, then it can cause wood to rot, metal to rust, and mold to grow.
We will spring to action as soon as you notify us of of water damage in your space and will arrive with all the gear needed to immediately get to work. Powerful machines allow us to quickly remove floodwater and dry the area thoroughly.
Getting all of the moisture out of the property and the air is necessary to prevent mold spores from starting a colony in your business, so you can rely on us to use air movers and dehumidifiers to completely dry the affected area.
Your business is your livelihood and we don't want something like water damage to put a damper on that in anyway. Call 911 Restoration Saratoga Springs when you need expert property restoration services and we will get your building fixed up in no time.
Keep Your Property Dry To Stop Mold Infestations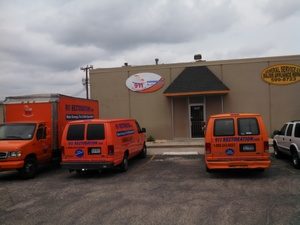 The main ingredient for starting a mold infestation is moisture. Mold also needs to eat organic materials like wood, cardboard, cotton, and paper to survive. Most commercial properties are always going to contain these elements, but water is the thing you can control from invading into your business.
Keeping a close eye on the quality of your roof, pipes, and foundation is key to preventing water damage and, in turn, mold. If you notice any leakage or water stains you must repair them quickly, because mold spores only need 24-48 after being exposed to moisture to begin growing.
Not only can mold eat away at the structure of your property, but it poses a health risk to anyone who is exposed to the substance. By inhaling certain types of mold you can experience allergy symptoms, respiratory issues, asthma, and in severe cases, internal bleeding.
In order to make sure your property is not infested by a dangerous mold, we test the spores. Your safety is something we take very seriously, so you can be sure that we won't leave behind any trace of mold, benign or malignant.
When you notice signs of mold growth or water damage in your building, call our commercial property damage Saratoga Springs professionals and we will give your business the fresh start it needs.
Serving the communities of Saratoga Springs, Alplaus, Argyle, Ballston lake, Ballston spa, Broadalbin, Burnt hills, Cambridge and surrounding area.